White Rock!
2004年 12月 21日
Yesterday I went to
White rock city
(place name) with 4 my friends.
I prefer to go to see mountains, but sometimes I really want to go to see ocearn. Ocearn reminds me many poems that I learned when I was Junior high school student. Also, Southern All Stars that is my favorite music band in Japan........
By the way, we got there afternoon. We ate lunch there, we walked together, and we had some scoop of gerard........
The gerad shop owner's home country is Italy and he came from Milan.
I just asked him some questions........ He is a nice guy and the shop is very popular for many people. Many people lined up to buying their gerard.......
Whiterock seems like Kobe in Japan, also Genova in Italy........
You might say West Vancouver as well.........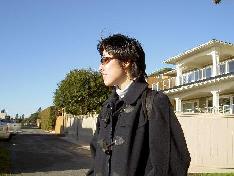 Here in the city, I said one joke to my friends as I pointed upside.
"What's up?"

They said,"many birds!!!!"
After we left from Whiterock, we went one of my friend's house.
He drove us. His sister's family lives in Surry.
I have met his sister and her sons before.
I like Korean food, so I asked her to send me your recipe by e-mail.
I met one guy..........
He has been busy all the time...
I was waiting for 3 hours............However, emotionally, I cried......
He is one of my best friend whom I met in Canada..........He told me
"I will take you to the Airport when you leave from Canada."
In his car, we were listening one song called "I love you" by Japanese famous singer Yutaka Ozaki. The song makes me so touchful.........
I am going to say Good bye to Canada; however, I had made many memories with him and other friends.....................
Before he took me to my house, we drink hot chocolate at Tim Horton.
The taste was so sweet and little bitter.....
彼は空港まで送ってくれると言ってくれました。
22日駅の前で待っているからって言ってくれました。
本当に言葉にすると涙が止まらなくなるくらい感謝の気持ちでいっぱいです。