San Francisco
2005年 01月 07日
2004.Dec.22nd
Since summer in 2003, I have never thought going to
USA.
When I went to Seattle with my best friend who came to see me from Japan, I saw Ichiro who is known a baseball player.
On the way home to Canada, I was asked from immigrant officer because my student visa will be expired within one week.
At that time, he told me very strongly "You should go back to Japan!"
After that happen, I cried a little. It was my bad experience......
In fact, I do not have any bad experiences in US , though......
Anyhow instead of traveling to England or Toronto, I choose to go to
Sanfrancisco
and
LA
with my friend after winter semester finishes.
With many memories in Canada, I left there bringing a big suitcase from Vancouver.
At the first impression of arriving in this city is surprising.
How difference between Canadian city and American city!!!!
There is no green in big city!
Even if I were in Vanvouver where is also a big city has a big park names "Stanley park". However, I can not see any block of trees in San francisco!!!How come?
This picture is bedroom where we stay in!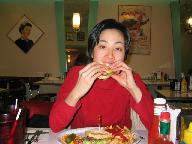 By the way we arrived our hotel where they had a good service for us.
According to my friend's request, we made a reservation for going to Napa Valley to join the winaries tour from tomorrow morning.
Have you been to winally in your life? I have been in Yamanashi prefecture before I went to Canada. At that time, I drunk 6 glasses of wine, but this time nine glasses of wine oneday.
I really want to have a piece of cheese after I drunk.
In the trip, I did not bring my camera. My friend took many pictures, thank you so much!
#my friend's blog is
here