Christmas in LA
2005年 01月 10日
2004.Dec.25.
♪Last Christmas I gave my heart , but you left from me right away
this year......♪
This year I was in LA on Christmas day........
*this picture is in San Francisco city hall.....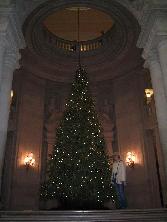 Since I decided to study English in Canada, I was in Canada on two Christmas days with my host families(different style and different members.) I ate special dinner and I got some present from them.
In fact, I did not sleep well on the way to LA , because we took a Greyhound bus all night.
I realized that American and Canadian personalities are totally different.
I saw some argument sceneries on a road and on the bus which I took with my friend to LA from San Francisco.
Before we departured, one woman who was sitting next to me argue with one man whom was sitting ahead of her. She shaked his seat when she moved her baggages.
They are not native English speakers because they told some bad words in Spanish....
When he bramed her, she did not admit what he said. Instead she admited, she said the bus driver, "
I have a right to report to the police!!!
". The last part, she told him "Ask the young lady whom she saw everything!"* Young lady is myself......*
It was true I knew everything what you did, obasa-n(old lady!)
In addition, I saw in LA another woman insisted some fire-fighters and police officers "I should go to White house!!!" with anger.
Even though I did not know about details, I think Americans are agressive than Canadians.....................
At the same time, it was a good opportunity to realize differences between American English and Canadian English. It was good for me to stay in Canada.................
Actually, they speak English but most of speakers are not native Americans. I mean they came from Mexico or South America to get job.
Their frirst language are Spanish...........
Also, I feel that LA is more dangerous than San Francisco.
I was luckey there are not any troubles there.........
If someone told me which cities I want to live, I will choose San Francisco city without any words even if there are many steep slopes.
How do you think?