Pier 39 in San Francisco
2005年 01月 13日
2004.Dec.28
The most famous place for visitors is Pier 39-42....
This is near the bay and you can join the tour to Alcatraz.
Azusa and I went to there by bus from our hotel.
this is my lunch!!!Clam chowder is in bread!!!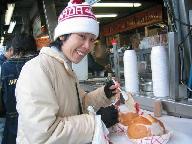 This day is the last day for Azusa because she should go back to Vancouver next morning.
We went shopping and took a walk around there...
Have you heard the name "Lombart slope"?

This is very popular place where many people want to try to drive their cars........the reason? Well, there is one big reason.....
The place is a snaky long slope..........
Can you see many cars behind me?
At Night we had a big supper for say good-bye to Azusa.
We ordered two glasses of beer and a seafood spagettie and a shrimp pot at Bubba Gump restaurant.
Do you have any idea about the restaurant name? If you do, you must be a good viewer the movie!!!!!!!!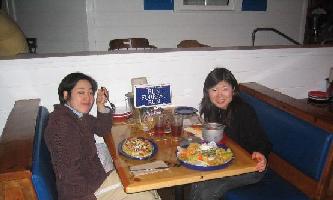 Did you see the movie called
"Forrest Gump"?
Do you remember the last secene?
Bubba and Forrest got success in shrimp bussiness.
I bought a souvenir to my father who loves the movie after dinner time.
Good Luck to Azusa, Cheers!
Azusa's weblog