新幹線の社内アナウンスは・・・
2005年 09月 08日
According to one article from Asashi Weekly,

You can't escape hearing Donna Burke's voice sometime during the day. If she's not making an announcement over the intercom of a Shinkansen train, you might hear her giving directions on your car navigation system or hear her singing on a television car commercial. You might even catch her newest song on the radio. So why not get to know this young Australian woman and put a face to the famous voice?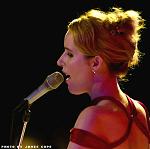 Most Japanese have heard my voice, but don't know who I am. I'm the English voice you hear on the Tokaido Shinkansen. If you own a Mercedes-Benz, I'm the voice guidance on the car navigation system. When you watch TV, I'm the voice singing on a number of commercials, including "Phantom of the Opera" for the Honda Legend.

My name is Donna Burke, and I have the perfect job for someone who loves the sound of her own voice!

Even before I came to Tokyo in 1996, I got to listen to myself all day, because I worked as a high school teacher in Perth, Australia, teaching English, speech and drama.

After nine years as a high school teacher, I felt the pull of the wider world. A lot of people in Perth told me I could find work in Japan using my voice -- something I'd always wanted to do -- and so I left my home to seek my fortune in Tokyo. The only work I could find here in my first year was as an English teacher and singer -- it was impossible for me to get work as a narrator because no one wanted to record an Australian voice speaking English.

There used to be so much prejudice against Aussie English. It was considered the poor relation of the English-language family -- definitely not as "elegant" as British or as "cool" as American English.
One of my best jobs came as a result of the new Shinkansen Shinagawa Station that opened in October 2003. In preparation for this, Japan Railways had to rerecord all its announcements for the Tokaido Shinkansen. I auditioned for the job using a British accent.
Five months later, I learned I'd won the prestigious job. It wasn't until after the three days of recording that JR discovered I was an Aussie! When I'm overseas and meet Japanese, I love doing the Shinkansen voice for them: "Ladies and Gentlemen, welcome to the Shinkansen! This is a Nozomi Super Express bound for Hakata," and watch them scream with laughter.

I hope you never get to hear my disaster announcements on the Shinkansen, but I feel very proud of those. When I was recording the regular announcements, I had to use a high genki tone -- while struggling to get the pronunciation correct. For the disaster announcements, which cover times when the train stops due to snow, ice, wind, earthquake, typhoon -- you name it -- I was able to use a lovely warm, low voice, which I hope will help relax and calm people who are feeling a bit worried.

One of the best things in my life is the ability to sing -- to use my voice to communicate emotions like love, hope, despair and longing.
This month, I'm going to release my fourth album, titled "Blue Nights," which features a song about Australia and Okinawa called "Goodbye Nakamura."

One result of having friends in the music business is that last year I started my own agency, Dagmusic. One of my TV producer mates was complaining that the foreign talent agencies for recording jobs in Tokyo didn't have enough singers, so he had to keep flying to Los Angeles or New York to make just one recording.

He asked me and my manager to find new singers, and a few months later we started Dagmusic Ltd. We now have more than 150 singers of all nationalities on our books.

I feel very lucky to have spent a very happy nine years here, discovering natto and sushi (but hold the uni!) and buying groovy clothes in Harajuku. I hope you now feel you know the person behind the voice.
If you ever run into me, make sure you say a friendly "Gidday!"