At Hotel Vancouver
2004年 11月 15日
I stayed two nights with my friend at Hotel Vancouver.
It was a great time for me and one of my dreams came true. At the hotel, I went to spa and had a relax time.
The picture is from a postcard that is in file for customers.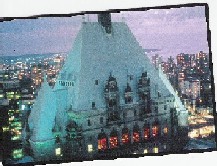 Novemver 12th I picked my friend up from Air port.
After we got downtown, we put her baggage in our room. We went out to Yale town to eat lunch together and saw many furniture shops or sundries shops.
Around 6:00 PM,I went to see my Japanese counseler
Miwa
.As soon as she saw me, she said to me "We have a nabe party at
my friend's
house!!". So I decided to join the party. The nabe was Kimchi. It was little spicy.But I had a great time with them.
While I was nabe party,my friend went to concert at the nihght club on Grandville street. I hope she had a good time out there.
In fact, next day I have to take
TOEIC
test at PGIC from 10:00AM; therefore I went back to hotel around at 10:30 PM.
This time, TOEIC test seems to be easy. I guess my English getting better. I hope I could get higher score that I have never taken before. :-)
Blog ranking